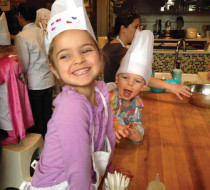 For many years, friends have been telling me I should write a book. My life has been so interesting, they say. But life simply does not slow down enough to write my memoirs. I am a full time professional services marketer, a devoted wife, a mother of two young busy children, and a stepmother of three older children. On top of all that, I'm totally dedicated to staying close with my big, modern family and the best friends anyone can have.
Since all of my recipes have a story, I thought I could share my memoirs via food.
A love of cooking is in my blood. Some of my earliest and best memories are from the kitchen. My grandmother was a chef trained at La Varenne cooking school in Paris. Later, she started a club in Baltimore called The Cosmopolitan Club. Essentially, a foodie club. Every month, the members of the club got together to prepare and eat a feast from another country. My grandmother also started a cooking school with weekly demonstrations followed by dinner. I was lucky enough to live with my grandmother during high school and I got to help her with the cooking school demonstrations, attend her Cosmopolitan Club dinners, and go on amazing trips abroad.
My mother inherited the cooking gene, and I grew up eating Moroccan tagines, homemade pates, and the best from scratch pies and cakes.
Today, my husband and I love cooking together. It's a way to relax together and stay connected. We find cooking at home more enjoyable than going out and we feel better knowing exactly what is in our food. My husband is Hungarian and makes many of the old world specialties that his mother taught him. He spent four days preparing the cabbage to make stuffed cabbage rolls for me to have as a first meal after the arrival our first child. What a treat!
I hope you enjoy my recipes and that they become a special part of your family, just like they have for me.
Happy cooking!
Kristin